What is FlowMap?
The quickest and easiest place for current information on where you want to fish
Nearly everyone knows how to get the flow of a favorite stream from their local fly shop. But what if you live in Colorado and are planning a trip to fish the the Henry's Fork in Idaho? FlowMap gives that information for 1500+ gauges and 150+ Fly Shops with just 2 taps. Start FlowMap (1st tap), and then pick the the stream you want (2nd tap). Quick, direct access to river flow gauges around the country, regardless of source.
FlowMap runs on both iPhone and iPad. There is a free 1 week trial period and then it is just $4/yr.
What's new?
We haven't been to all the streams in America (yet). If your favorite stream or Fly Shop isn't here just drop us an email and we can quickly add them in. An e-mail link is built in to the app, just go to the settings page.
Hyperlocal weather is now available for each pin on the map. See the temps, cloud cover and wind speed and direction for the next 32 hours.
We started in Colorado, but now we have added most of the west. We also have many of the east coast states covered.
---
Overall View
See the entire map and the entire selection of flow gauges. Gauges are color coded by river drainage to help understand where the water comes from (or goes to).
River Gauges
Any one of over 1000 gauges can be tapped to get immediate flow and water temperature where available. Also localized weather for the next day and a half pops up. All the gauges are color coded by river basin.
Fly Shops and Outfitters
The grey or red pins represent Fly Shops. By tapping on the pin you can call them or view their website.
Gauge Details
Tap on any pin to bring up the current flow and water temperature where available.
Gauge Title
Tells you the river and nearest landmark. Also gives you the timestamp of the reading.
Water Data
The blue section shows Flow in cfs and Water Temp in °F. Also there are 3 optional items: Fishing reports, Web cameras. or Access maps may be available. Just swipe left to see any of the options.
Hyperlocal Weather
Very localized weather is available for the upcoming 32 hours. Just swipe left to see what's happening tomorrow. You can see the Temperature, the cloud cover, the wind speed and direction, and the time. The background shows whether it is day or night and sunrise and sunset.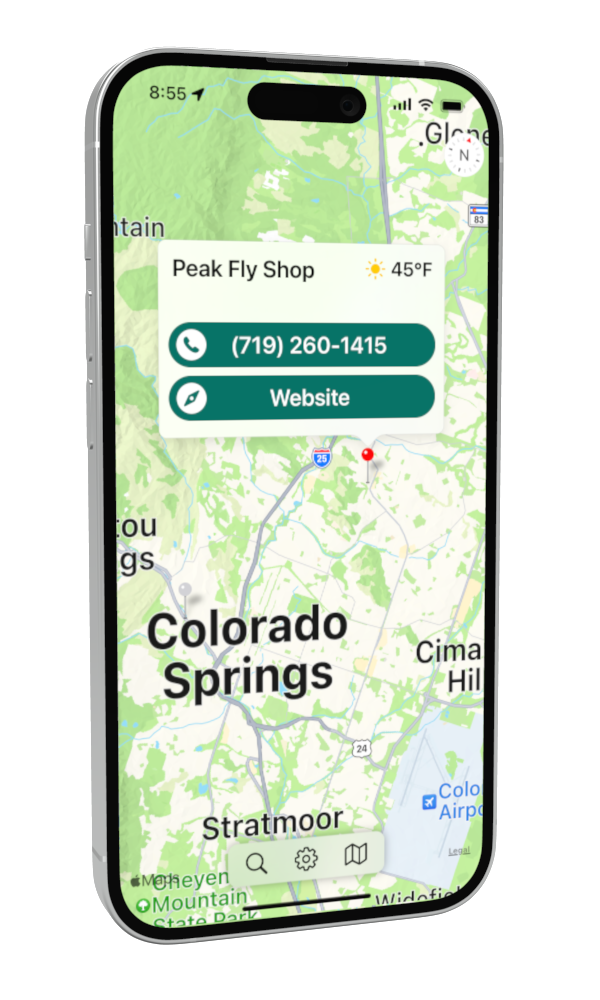 Fly Shop View
Tap on any red or grey pin.
Call Directly
Just tap on the number to talk to any fly shop or outfitter.
Website
Lots of local information. Many have river reports and the latest fly recommendations.
Drill Down
Just tap on the Flow value to get this webpage from the data provider. These sections show you the history of the stream flow.
Last Week
Gives you trends and shows if there may have been a rainstorm the day before, muddying the visibility.
A Year Before
Sometimes useful for planning a trip to a tailwater. Lets you see when the irrigation season started.
Temperature History
Tap on the Temperature value to see it's history.
Temperature View
Just like flow, you can see what's going on with water temperature history.
Additional Info
Turbidity is measured on a small number of gauges. This will give you advance warning if the fishing is going to be tough. Some of the gauges also have a camera view. Just scroll down to see what's available.
Bottom Bar
There are three handy functions at the bottom of the screen.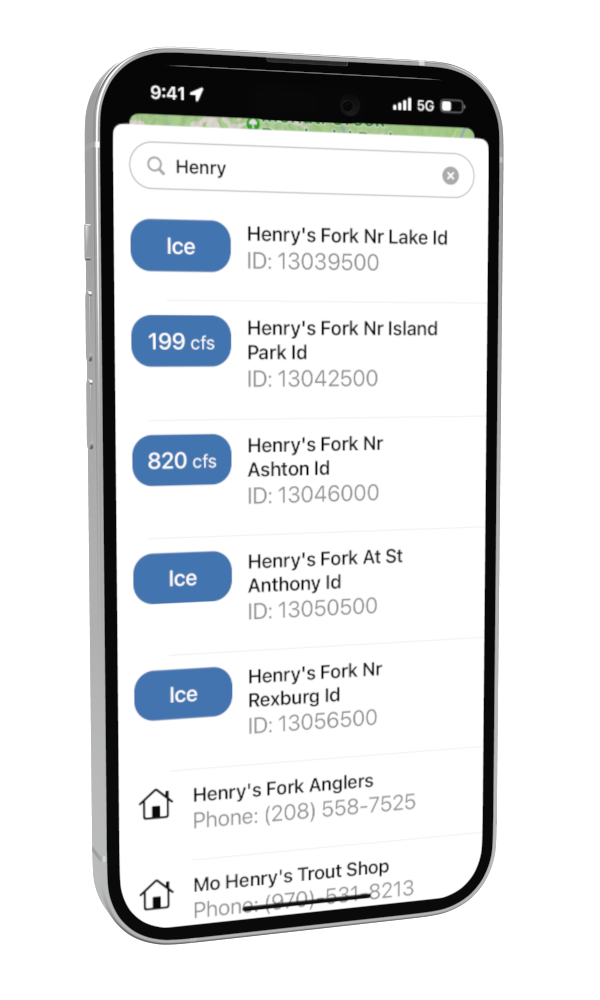 ---
Frequently Asked Questions for FlowMap.
I can't find my favorite stream, how can I get it added?
We haven't been to all the streams, yet. We are eager to add your stream if there is a gauge that monitors the flow. Just send us a quick Email and we will quickly add it. If you snap a picture of the stream and send it, it will help to clear up any confusion. There are lots of Snake rivers and South Forks.
What does hyperlocal weather mean?
Weather for each pin is localized to a small (~5 mile radius) area around the gauge or Fly shop.
Download the app now.
We have 1500+ gauges now and are adding more daily. There is a 1 week free trial period and then it is just $4/yr.